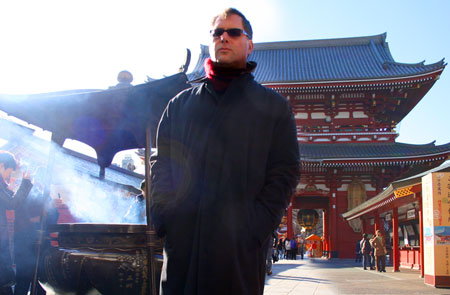 While living in Prague working at Mark BBDO as a television commercial consultant, Sam Bozzo would often visit his literary hero Franz Kafka's grave for inspiration while writing screenplays.
When he returned to the US, he created Purple Turtle Films to produce, direct, and edit Blue Gold: World Water Wars., his feature documentary based on the ground-breaking book and narrated by Malcolm McDowell. Bozzo often risked his life (on at least three occasions he is aware of) making the controversial film, which has won international awards, has screened theatrically in Japan and is available in the USA via PBS Video, iTunes, Netflix, and Amazon VOD. The project allowed Bozzo the chance to work with his documentary hero Mark Achbar ("The Corporation", "Manufacturing Consent") who mentored Bozzo in post-production and distribution.
Press photo of Sam Bozzo in Tokyo, Japan for theatrical premiere of
As a narrative filmmaker and Art Center College of Design Alumni, Sam wrote, directed, and edited three international award winning short films which screened at the Student Academy Awards, Directors Guild of America, the Toronto International Film Festival, and the Sundance Film Festival and aired on the Sundance Channel and Showtime. Bozzo is a Top 10 Project Greenlight Director, personally selected by Ben Affleck and Matt Damon, and a winner in Kevin Spacey's TriggerStreet.com short film contest. Sam earned his MFA in David Lynch's TV Web Series MFA Program where a team of filmmakers collectively created a narrative web series.
As a writer, three of Bozzo's screenplays were Quarterfinalists in the Academy's Nicholl Fellowship for Screenwriting, and one was sold to legendary television Writer/Producer Stephan J. Cannell. Sam attended the UCLA Professional Screenwriting Program and is currently working on a novel adaptation with his narrative film mentor Si Litvinoff (Producer of "Clockwork Orange", "Man Who Fell to Earth", and "Walkabout"). Sam writes mainstream scripts for the Hollywood studio marketplace, such as his recently completed Sci-Fi television pilot "The Farm", which is one of Blacklist.com's Top Rated teleplays and is being developed into a series of novels, and lower budget independent projects for himself to Direct. Sam also wrote a Novel based on his screenplay "Sweet and Sour".